US Marine Soldier Statue Modern Day

Life-size Bronze Monument Statue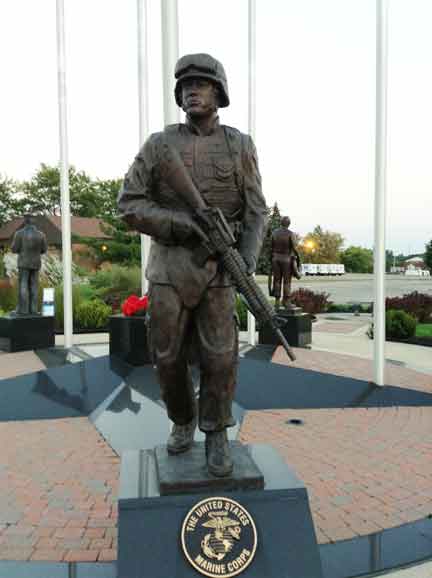 Our modern day bronze Marine soldier statue was created for the Swartz Creek Veterans Memorial Park in Michigan. The life size soldier is shown in full battle gear and ready to fight. If you are in need of a custom soldier statue for any branch of the military, you have come to the right place. Please let us know your needs and we will provide you with a custom quote usually within 24 hours.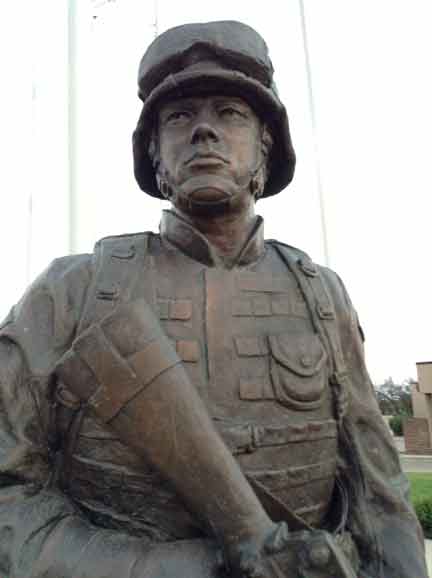 Bronze Marine Statue In Bronze At Veterans Memorial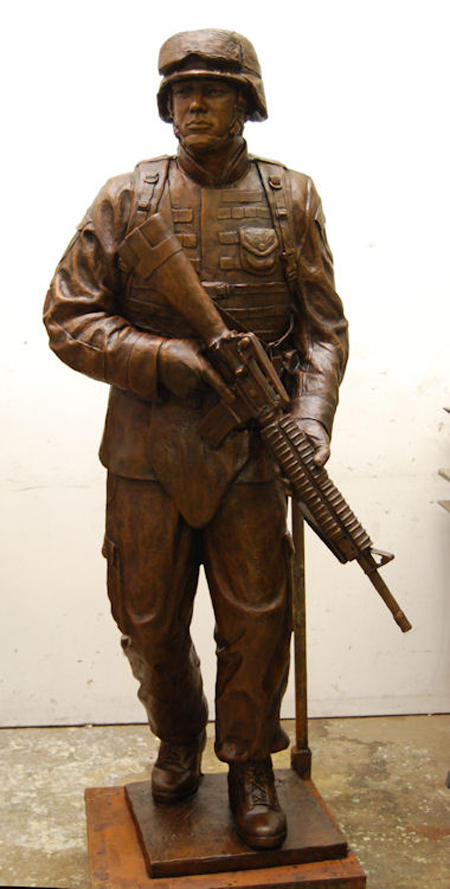 Front View Of US Marine Soldier Statue
Custom Sculpted By Icon Bronze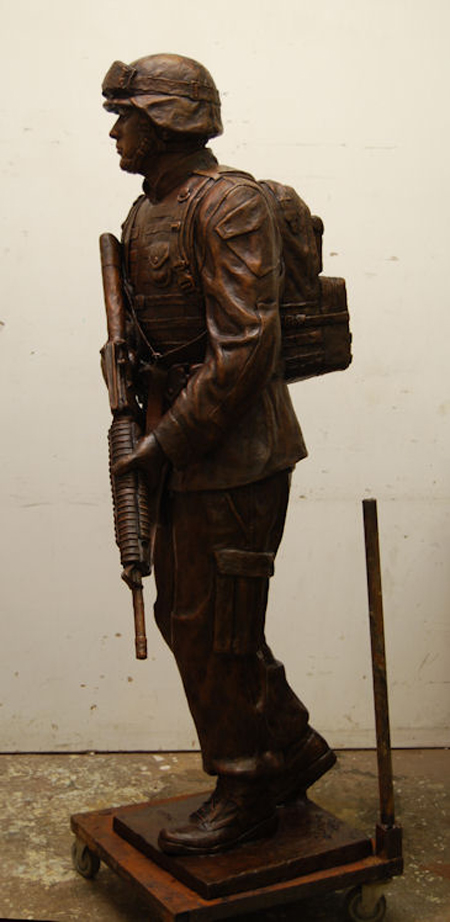 Get Your Custom Bronze Soldier Statue Today!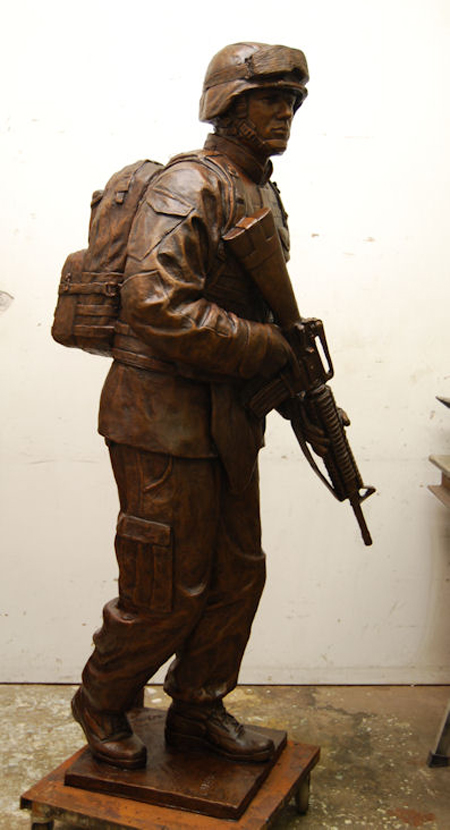 View Of The Back Of The Marine Statue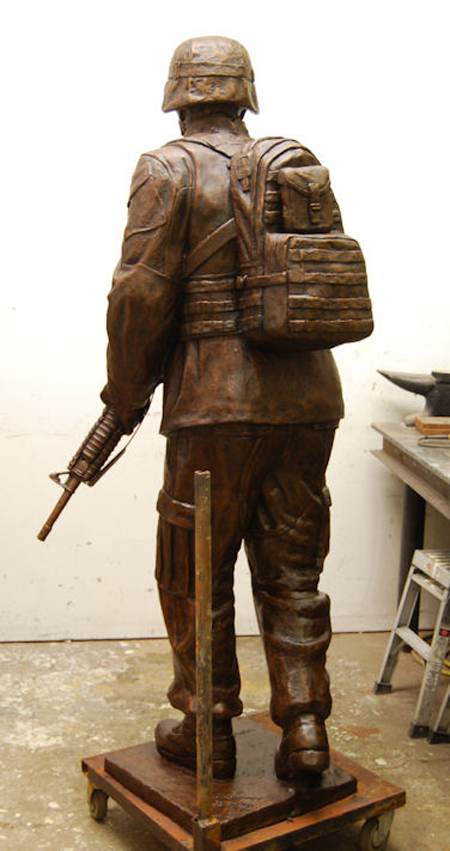 Custom Made Soldier Statues At Icon Bronze, LLC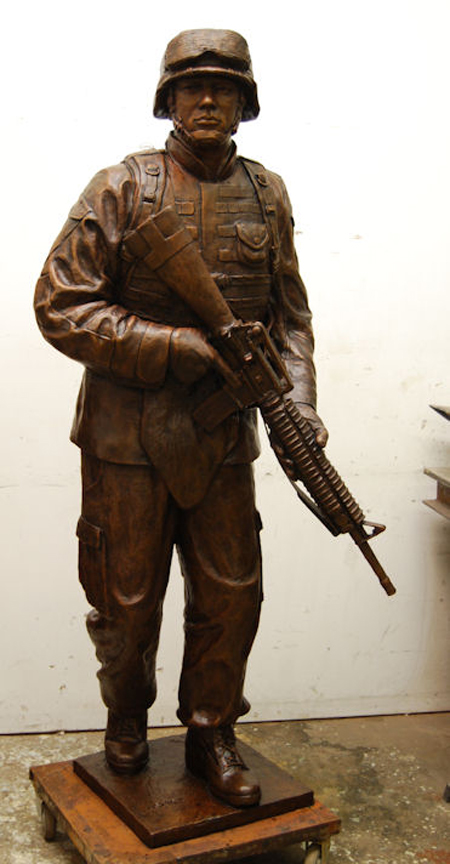 Close Up Of Marine Soldier Statue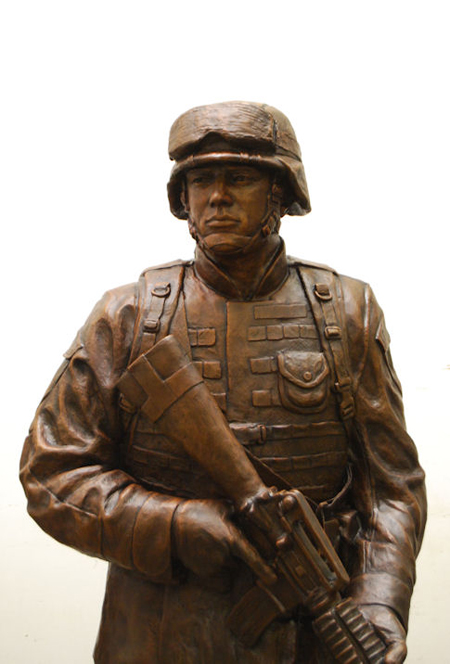 Back View Of Soldier Bronze Statue
Swartz Creek Veterans Memorial
By Icon Bronze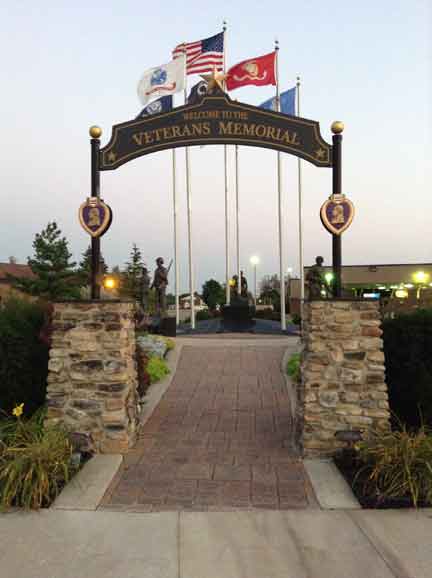 Swartz Creek Marine Bronze Statue
We Created All Five Bronze Statues Of The Different
Branches Of The Military For This Memorial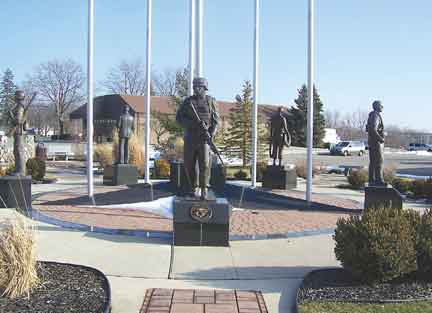 Marine Soldier In Battle Gear
Bronze Monument
Bronze Modern Day Battle Cross Statue
Please Click Picture For Details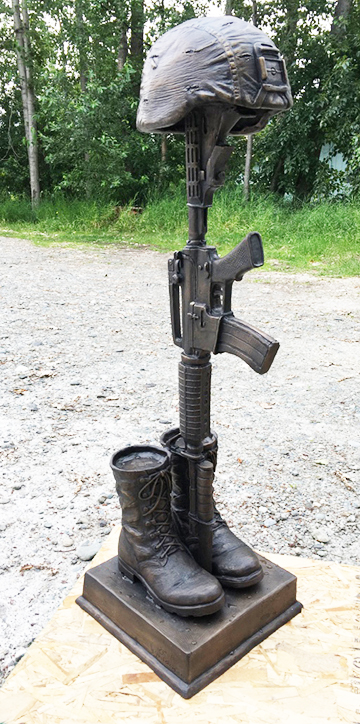 Custom Bronze Military Monuments And Memorials
Custom Bronze sculptures by Icon Bronze Your Bronze Statue Headquarters for Bronze Casting. Icon Bronze will create a custom bronze monuments for your organization that will meet and exceed your expectations. Custom Orders are always welcome please call for a quote on custom bronze sculptures, Statues and Monuments Contact Icon Bronze at (801) 649-5823 or Toll Free (877) 404-ICON or send us an Email bob@IconBronze.com and we will promptly provide you with a quote.
Only The Best At Icon Bronze, LLC
At Icon Bronze we only create beautiful bronze sculptures from tabletop size to heroic monuments. We are the leader in custom commission bronze statue work. We do it all from the beginning sketches to casting to the installation of your monument statue. When you commission your statue with Icon Bronze we only have the finest craftsmen in the business. Possibilities are endless and could include indoor or outdoor bronze sculptures, bronze fountains, portrait busts of loved ones and company founders. We can create bronze sculptures for offices entryways and common areas. We are well known for custom bronze statuary for many churches and other religious buildings. We can custom create a logo for your company or organization.
Bronze Statues To Honor Those That Have Served
Consider a bronze sculpture portrait of your family member that has served in the Armed Forces. A bronze sculpture bust or full figure bronze Military statue can serve to honor those that have fought and died for this country. Bronze sculptures serve as landmarks by which people remember and find businesses. A bronze statue can also convey the image, message, or mission statement of your community. With Icon Bronze you will be working directly with the sculptor and foundry leaving the guess work out of creating your custom bronze statue. We pride ourselves on our commitment to quality of your monument and our customer service. All of our bronze sculptures are custom made to order. All of our bronze statues are sculpted, molded and cast in house at the foundry. Buy your custom bronze statues from Icon Bronze today.
Contact Us For A Consultation Today
Contact Icon Bronze to commission a custom bronze statue and turn your idea into a real bronze statue. At Icon your statues are created and cast from the finest American materials available. All of our work and bronze casting is done right here in America. Our fine art bronze foundry will stop at nothing to see your sculpture project through to perfection. All bronze castings at Icon are cast of Everdur silicon bronze. The composition of Everdur bronze is 95% copper and 4% silicon and 1% manganese. This type of bronze produces a much higher quality, more durable and longer lasting statue or monument than cheap imported bronze. Imported bronze will have a little as 50% to 55% copper content. Because of the high quality bronze used in the creation of statues and monuments at Icon, you can rest assured that they will last for many generations. Our custom sculpted statues stand out above the rest because it is hand sculpted, molded and cast. For your free consultation or more information regarding the bronze statues that you are considering please call Bob or email at bob@IconBronze.com 1(801)649.5823 or toll free 877-404-4266 Today!