Thomas Dolsky
Bronze Bust Statue 1/2 Life Size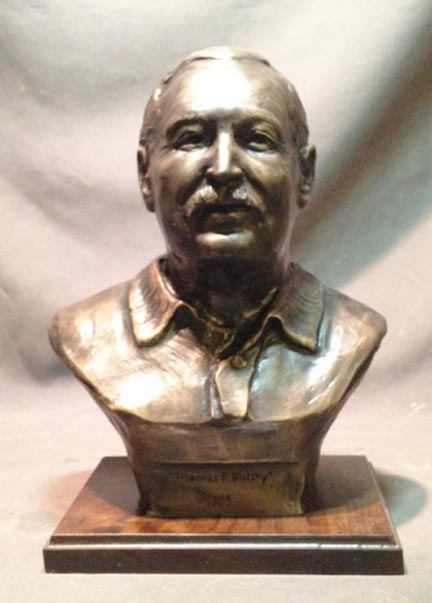 This is a half life size bronze bust of Thomas Dolsky. Half life size bust statues are right close to 12" tall while life size bust statues are closer to two feet tall. We can create bust statues in any size from 1/2 life to life and even 3 times life size. whatever your needs we can create a statue for in any size. If you are looking for a full body likeness statue we would be honored to give you a quote. With us you won't be sorry.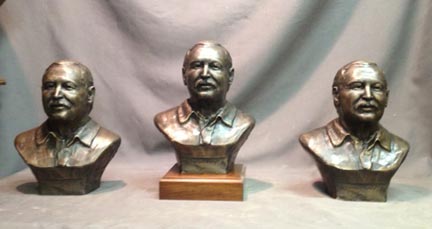 Several Casting Of This Bronze Bust
Bronze Busts shown Being Finished
By Icon Bronze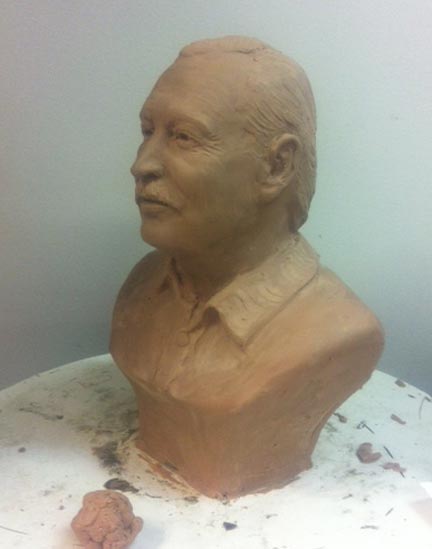 Clay Sculpture Of Dolsky Bust
Custom Commission Bronze Bust Statues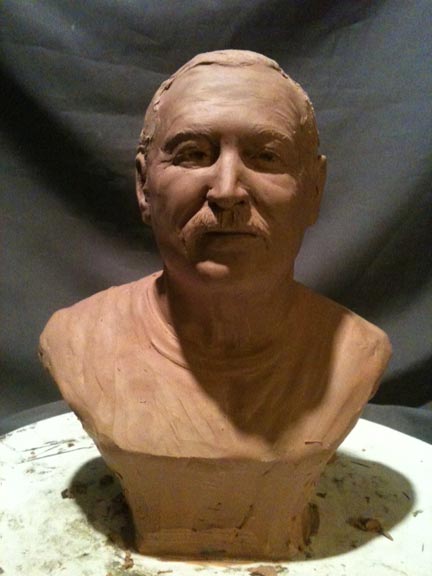 Custom Bronze bust
By Icon Bronze
We specialize in Bronze Portrait Sculptures
We specialize in bronze portrait sculptures so whatever your needs we can deliver. If you are in need of any type of bronze statue, plaques, monuments or even fountains we are hear for you. If you want to tell a story for generations then you may want to consider a permanent bronze statue or monument. The statues will virtually last for ever and you can tell your story by bringing history to life for generations to enjoy.
Our mission it to help you create and design a custom made patriotic bronze statue. Icon Bronze is where your dreams become reality. Together Let our sculptors help create the bronze monument you have envisioned. At Icon you will be working directly with the artist from beginning to the final touches. Let Icon Bronze, LLC and their team of expert artisans help you create a lasting legacy monument. Icon Bronze is also an American owned and operated company and all of our statue are created in the United States of America. All custom bronze sculptures and bronze monuments created by Icon Bronze and that are shown on this website are sculpted and cast in the USA of the finest quality everdur bronze available.
Call us for your custom commission statue needs
Call us today for your commission statue needs and consider a custom portrait bust sculpture in bronze. Icon Bronze's sculptors are well known for the American themed and Patriotic bronze sculptures which he creates. Our custom bronze statues are sculpted in the style of classical realism and cast in bronze using the time honored lost wax bronze casting method. The sculptor's bronze statues can be seen in many wonderful locations across the United States, as well as abroad. Please give us a call for a fast free quote 801-649-5823 or Toll Free 877-404-ICON (4266) or send an email to bob@IconBronze.com, we are happy to help. At Icon Bronze we specialize in bronze sculptures commissioned for large spaces that will fill the area with your statement. Custom bronze sculptures and busts are permanent and made to honor those that we admire. A great way to honor people is with a bronze portrait busts and full figure bronze statues. A statue is a good way to show the world their ideals personalities and accomplishments.
Our custom bronze sculptures are
specially made to order for you
We are hear daily to assist you in creating the statue of your dreams. Our Custom bronze casting will work will impress the finest of tastes out there. We are here to help you with a portrait in bronze capturing the likeness and personality of the one you seek to honor. To commission your custom bronze bust or portrait sculpture, contact Icon Bronze 801-649-5823 or Toll Free 877-404-ICON (4266) we are standing by ready to assist you with your custom bronze statue today with our free consultation statue design service. With Icon Bronze, You will work directly with the artist and foundry. Why not Commission a custom bronze sculpture portrait bust today. Your new statue will last for generations to enjoy which makes it a pretty good investment.
The foundry uses high quality

Everdur silicon bronze
The composition of Everdur bronze is 95% copper, 4% silicon and 1% manganese. This type of bronze produces a much higher quality, more durable and longer lasting bronze sculpture than cheap imported bronze which may have as low as only 50% to 55% copper content. Your bronze casting from Icon Bronze will last virtually forever and be there for generations to enjoy because of the high quality of our bronze. Let Icon Bronze help you to create the custom bronze sculpture of your dreams. It all starts with a simple phone call or email and we can get the ball rolling toward your custom bronze statue commission. With Icon you can expect us to meet and exceed your high expectations. We are strong believers in using US materials, facilities and talent. All of our custom bronze sculptures and monuments are proudly made right here in the United States of America. We use the finest Everdur bronze materials and employ the finest qualified craftsmen around. The bronze artists Icon Bronze uses are well trained in the time honored lost wax bronze casting process. With an expert eye, each foundry worker pays special attention to the most minute details when it comes to design, texture, form and finish of bronze sculptures.
We sell bronze sculptures
Icon Bronze, LLC sells bronze sculptures of your custom wildlife animal statues. Contact Icon Bronze regarding your custom bronze sculpture quote for your school or sports team mascots. You can contact us by email at bob@IconBronze.com or by calling 801-649-5823 or Toll Free 877-404-4266. Here we can sculpt custom bronze plaques for your school, business or team. Plaques can go with your custom commission bronze mascot or have as a stand alone wall plaque. Icon Bronze, LLC Makers of Patriotic Bronze Sculpture Monuments and custom Patriotic bronze sculptures from desktop size to monumental. Buy your bronze sculptures direct from the Icon Bronze where we accept commissions for your custom bronze statues. See our portfolio for more custom Patriotic bronze sculptures, custom Patriotic bronze statues, war memorials and custom bronze monuments. Contact Bob Talbot at Icon Bronze for your consultation about your custom bronze sculpture project 801-649-5823 or Toll Free 877-404-4266, Email welcome at bob @ IconBronze.com or click here to Contact Us.