Horus The Sun God Statue




With Two Sphinx Statues



24K Gold Leaf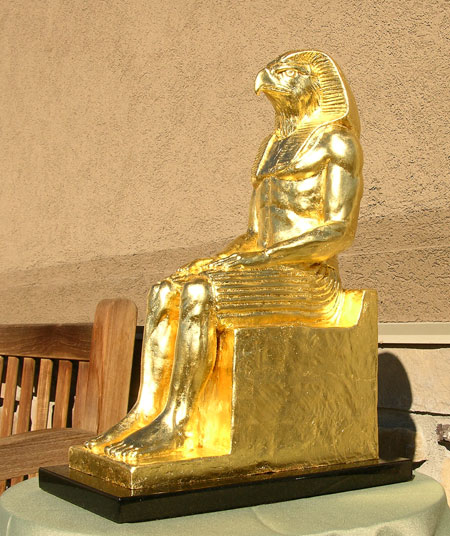 This is a custom Bronze statue of Horus and two Sphinx statues on either side. One of the sets was finished in gold leaf the other in regular French brown patina. The bronze Horus and Sphinx statues were mounted on a black granite base. If you are looking for a quote on a custom bronze statue of any ancient figure, you have finally found the right place at Icon.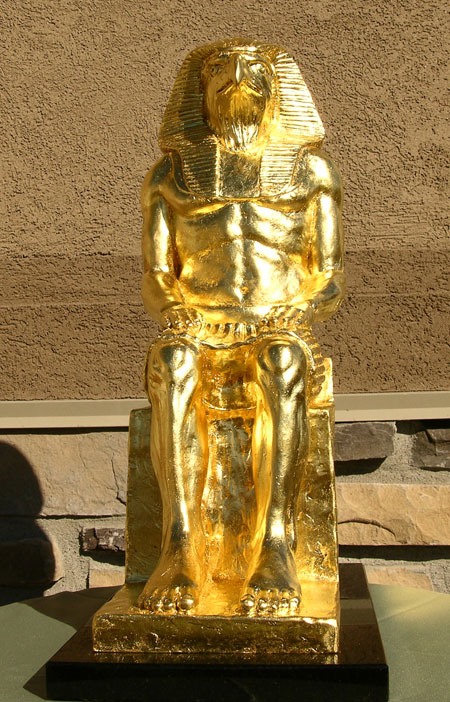 Golden Horus Statue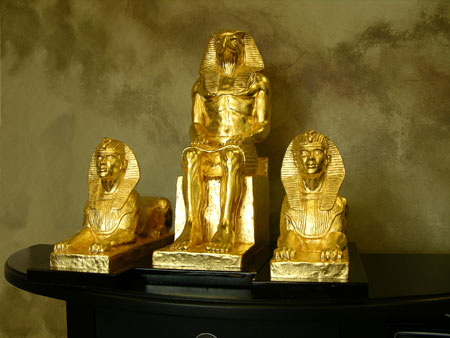 Horus and 2 Sphinx Statue Set 24K Gold Leaf Finish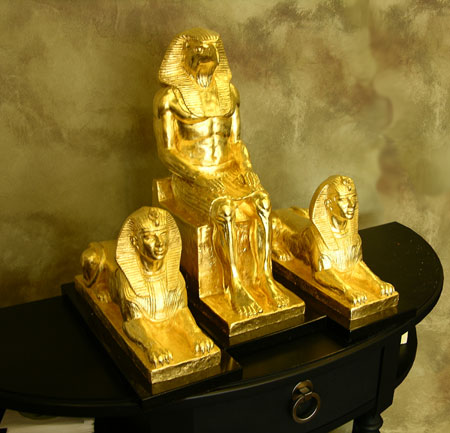 Golden Horus and Sphinx Statues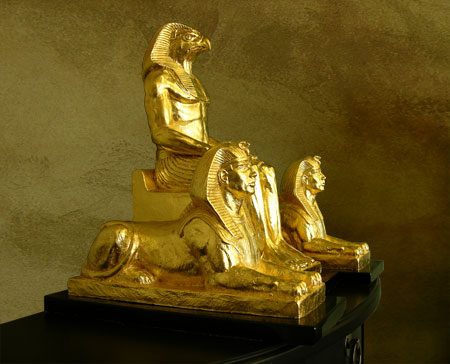 Bronze Patina on the Horus Sun God and Sphinx statues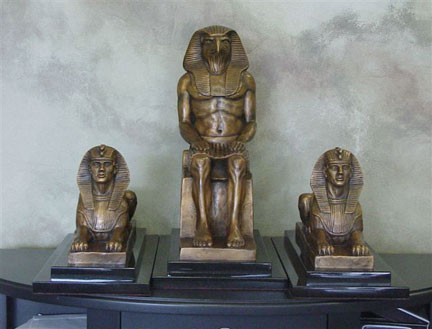 Sphinx Statue In Cast Bronze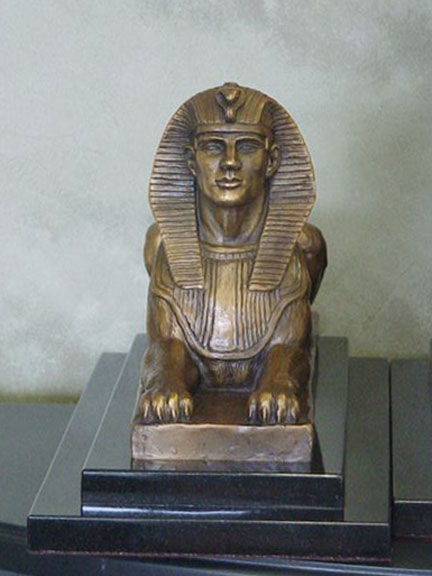 Custom Bronze Horus And Sphinx Statues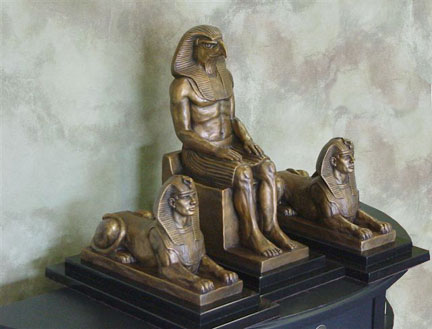 Bronze Horus And Sphinx Statues On Black Granite Base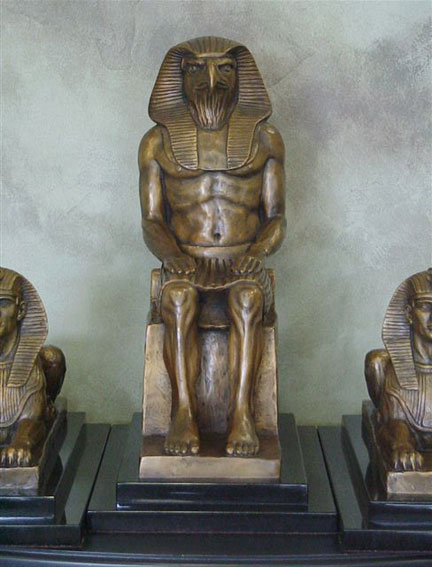 Bronze Horus Statue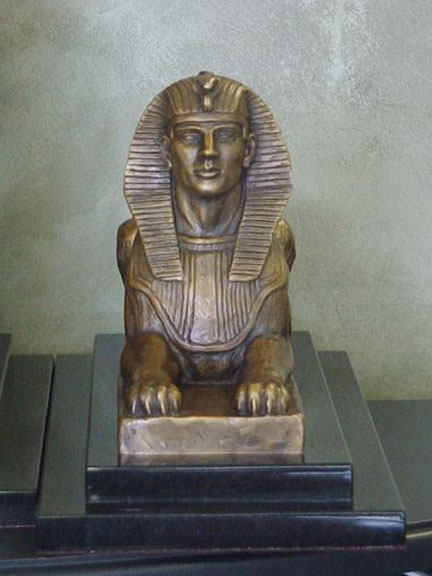 Bronze Sphinx Statue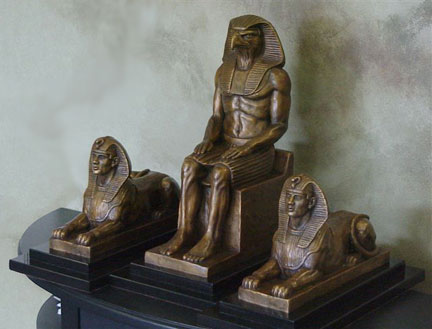 Custom Bronze Horus And Sphinx Statues
By Icon Bronze
We Specialize In Custom Bronze Statues
We specialize in bronze portrait sculptures so whatever your needs we can deliver. If you are in need of any type of bronze statue, plaques, monuments or even fountains we are hear for you. If you want to tell a story for generations then you may want to consider a permanent bronze statue or monument. The statues will virtually last for ever and you can tell your story by bringing history to life for generations to enjoy.

Let Icon Bronze, LLC and their team of expert artisans help you create a lasting legacy monument. Icon Bronze is also an American owned and operated company and all of our statue are created in the United States of America. All custom bronze sculptures and bronze monuments created by Icon Bronze and that are shown on this website are sculpted and cast in the USA of the finest quality everdur bronze available.
Our Well Known Sculptors


Icon Bronze's sculptors are well known for the American themed and Patriotic bronze sculptures which he creates. Our Custom bronze statues are sculpted in the style of classical realism and cast in bronze using the time honored lost wax bronze casting method. The sculptor's bronze statues can be seen in many wonderful locations across the United States, as well as abroad. Please give us a call for a fast free quote 801-649-5823 or Toll Free 877-404-ICON (4266) or send an email to
bob@IconBronze.com
, we are happy to help.
We Can Design And Create Anything For You!
We can create and design a custom made bronze sculptures and bronze statues for you from your ideas or feel free to use ours. We are happy to help in any way making your dreams become a reality. The sky is literally the limit when it cones to custom bronze monuments and statues. We create custom made statues from desktop to colossal bronze monuments. Options are wide open and the possibilities are endless for your statue needs. We can custom create for you portrait statues and bust statues, we make bronze plaques, fountains, memorial statues and more. Icon Bronze, LLC creates custom hand sculpted bronze plaques, signs and other architectural elements in bronze. Add class and elegance to your office building, Church, hotel or other public building with custom bronze elements giving it a unique one of a kind atmosphere. Remember that with Icon Bronze, LLC your custom bronze sculpture will be sculpted to your exact specifications.
We Are Masters At Bronze Statue Making
The bronze artists Icon Bronze uses are well trained in the time honored lost wax bronze casting process. With an expert eye, each foundry worker pays special attention to the most minute details when it comes to design, texture, form and finish of bronze sculptures. Don't be like one of those people that are trying to keep up with the all the others with the same old statues. Step out of the old box and have a custom bronze statue made to your exact specifications. With Icon, your custom bronze statue will have style and suit your needs. Our high quality custom bronze sculptures have been shipped and installed worldwide.
We are hear daily to assist you in creating the statue of your dreams. Our Custom bronze casting will work will impress the finest of tastes out there. We are here to help you with a portrait in bronze capturing the likeness and personality of the one you seek to honor. To commission your custom bronze bust or portrait sculpture, contact Icon Bronze 801-649-5823 or Toll Free 877-404-4266 we are standing by ready to assist you with your custom bronze statue today with our free consultation statue design service.